http://4oops.com

Techno-Savvy Bookmarks
Helen Teague, MEd.


OOPS

: Our Overnight Planning System
Add 'net worth' to your lesson plans and beat the 404 Blues


NOTE:

These are not the only sites available for these activities, just the ones we like and have demonstrated in classes.



Aim at the sun. You may not reach it, but you will fly higher than if you never aimed.

While you're waiting for Tech-Support, try these websites:

1. First, try the Help Forums of the website you are working on or the Windows Application
2. Tech Support Alert
3. Kelly's Korner, Troubleshooting XP
4. Troubleshooting Windows(r) 95 Errors
5. Windows Galore: Troubleshooting Microsoft Windows
6. Tech Support Forum
7. PC Performance and Upgrade Tips
8. WinFiles.com
7.
8.
9.
10.
11.
12.
13.
14. Tech Support Comedy: http://www.techcomedy.com/
Visit the OOPS Homepage for More Great Ideas, Handouts, and Activities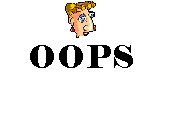 Last Update: February 9, 2009